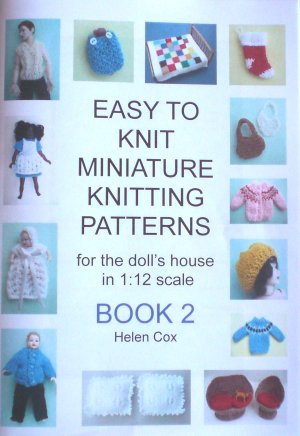 This is a brand new publication packed full of miniature knitting patterns for the dolls house in 1:12 scale.
'EASY TO KNIT MINIATURE KNITTING PATTERNS for the doll's house in 1:12 scale Book 2' by Helen Cox.
This book presents more than 20 brand new doll's house knitting patterns specially designed to be easy and quick to knit, for new and experienced knitters, with designs suitable for both the miniature collector or for a child's first doll's house. They are even suitable for a competent child knitter to make.
Designs include a basic wardrobe for adult (6" tall) and child (4" tall) dolls, furnishings, and extras to make the doll's house a comfy home.
All the designs are made using readily available materials, with a manageable 2mm knitting needle size, and are very quick to produce. Projects include
Clothes for babies, toddlers and children
Cabled pullover
Snowflake lace blanket and cushions
Yoked sweater and cardigan
Cot bedding
Patchwork blanket
Furniture
Shopping bag
Christmas stocking
Hot water bottle cover .......and more
As well as these new designs not available elsewhere, this publication is packed with hints and tips, suggested pattern variations, and instructions on how to convert the patterns to 1:24 scale.
Knitting needles and suitable yarn are available from bitstobuy.
Softcover booklet, size 6 x 8", 32 pages.
£7.99