MINIATURE KNITTING KITS IN
1:12 (one inch) scale by Helen Cox. Suitable for the dolls house and other 6-7 inch dolls.
I am currently having problems with receiving emails from the site - you can place orders as normal but I may need to contact you to check your order before I send it out. Apologies for the inconvenience and I hope to get this fixed as soon as possible.
Read my blog for news, information and free patterns!
Welcome to the bitstobuy range of miniature knitting pattern kits in twelth scale. All specially designed to be easy and quick to knit.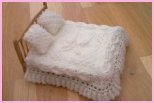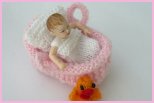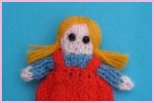 Bitstobuy is based in the UK and can supply miniature knitting kits (containing the knitting pattern and all the yarn and extras required), knitting needles and yarn - just click on the windows on the left to see the full range. All items can be despatched internationally.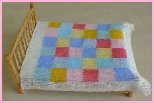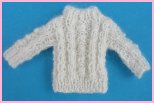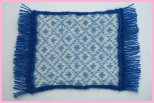 All the items listed on the website are available to buy worldwide online - just follow the instructions to add to the shopping basket, then proceed to checkout. There is a standard P&P charge of £2 which is the same however much you buy or wherever you live. You can pay online by following the link to the secure site Paypal and pay either with your Paypal account, or if you don't have an account, using any credit or debit card. Paypal automatically converts from any currency to British Pounds at current rates. If you would prefer, payment can be made by cheque (UK only).
Kits include the pattern and all the yarn and haberdashery required. For all kits you will need a pair of size 2mm (UK size 14 or US size 0) knitting needles. Garments will fit adult dolls up to 7 inches tall, child dolls of 4 inches tall and baby dolls of 2 inches tall. Knitted toys are about 1½ inches tall. Furnishings are suitable for a 1:12 (12th) scale dolls house. Teddy patterns are generously sized to fit bears of up to 7 inches tall, with a 4 to 6 inch chest, but as the garments are stretchy these measurements are variable. Extra yarn is available to make additional items - 50m will knit a single garment and 200m a double blanket and cushions.